Elixir of joy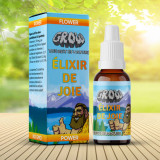 Simple, natural and efficient.
Put your head back in place!
Well on a bad day, when you ask yourself too many questions, when your thoughts are negative, or when you want to see things more clearly and understand what should be your first step in learning to know yourself better and in improving your well-being and health.
When we lose our physical and mental harmony.
Indeed, when dealing with physical illnesses, most of us tend to turn to doctors. However, these can relieve or even cure the symptoms, but not the reasons why the diseases are there and sometimes throughout our life.
Nowadays, it is well known and recognized that illnesses very often arise from emotional trauma. If we find the reason for the psychosomatic illness, the body will find its harmonic function more easily.
The Elixir of Joy contains 84 ingredients derived from flower essence. Its agents cover all the problems of the human body. The invention covers 64 life situations that can cause disease, so these ingredients protect us and save us from future illnesses.
The Elixir of Joy is a complex preparation that contains 87 essences of flowers, calendula extract, blueberry extract and vitamin C, to restore well-being, support the resistance of the body and reorganize the brain.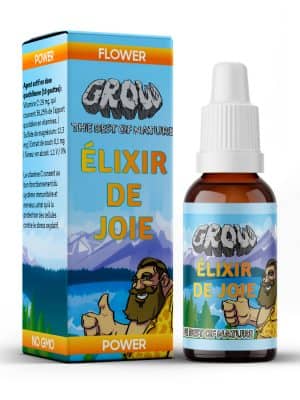 10 drops in a glass of water, once a day.
A minimum cure of 3 months is recommended.
One bottle is equivalent to 1 month.